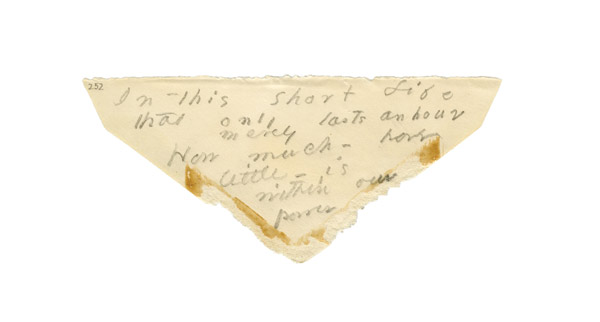 The Gorgeous Nothings: Emily Dickinson's Envelope Poems (Christine Burgin /New Directions in association with Granary Books, 2013). The fragment reads:
"In this short Life | that only [merely] lasts an hour | How much – how | little – is | within our | power."
Released earlier this year
The Gorgeous Nothings is a beautiful book that collects poem fragments on envelopes and other bits of saved and collected paper by Emily Dickinson. Jen Bervin writes in "Studies in Scale", that we should consider these works "small fabric. Small not as diminished but in relation to the whole of existence, they "imply much". She goes on to write:
"Dickinson's writing materials might best be described as epistolary. Everything she wrote — poems, letters, and drafts, in fascicles, on folios, individual sheets, envelopes, and fragments — was predominantly composed on plain, machine-made stationery. "Preserve the backs of old letters to write upon," wrote Lydia Maria Child in The Frugal Housewife, a book Dickinson's father obtained for her mother when Emily was born. It opens: "The true economy of housekeeping is simply the art of gathering up all the fragments, so that nothing be lost. I mean fragments of time as well as materials."
Emily Dickinson was a prolific writer, writing over 3,000 poems, manuscripts and fragments over the course of her relatively short life. On scraps of paper, with pen or pencil, stored in specially sewn pockets on her dress, she gathered, and wove a fabric of dashes, breaths and pauses, she unfolds across the pages, a breath of light.
The true economy of art is to salvage, save and tease out the fragments of life and beauty so that nothing will be lost, and what is forgotten is hinted at in the folds, traces and erasures.